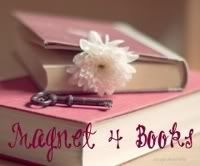 Today's featured blog is Magnet 4 Books. I particularly love the background, let's say hello to Al who runs the show! Take some time to go visit and follow.
Q. Circle time! Time to share. What character in a book would you most like to be, what character in a book would you most like to date?
What's with the hard questions? Well, this book comes out next year, but for what I can see I would love to be Detective Taylor from Meljean Brook's Guardian series because I have a huge crush on Michael. And if I can't have him I want either Hawke or Dmitri from Nalini Singh's books. Apparently I'm into guys whose books I haven't read…. This is like literary blind dating!
Here I am, a little bit late as usual. As for my answers, they depend on my mood! Sometimes I really feel like Sophie Kinsella's characters, because I'm a little bit like them so sometimes I would like to be Becky Bloomwood. I like heroines with personalities but that can be funny and easy-going. Ohhhh! I could easily be Jesse Keyes (From the Bakery Sisters by ) the heroine of Sweet Trouble by Susan Mallery, she can bake! If I'm feeling like kicking some asses Alyssa Locke (From the Troubleshooters Series by Suzanne Brockmann) is my choice. About the Hero I have to agree with Brie, Michael and Hawke are in my top 5 list. But if I'm feeling naughty I think that Zsadist from the Black Dagger Brotherhood is my choice, does that make me Bella? And then there is Sam, both of them: the one from the Troubleshooter Series and the one from Mr Perfect by Linda Howard. Too many choices!